The Sharing Center Cares
Date posted
April 19, 2018
Preventing Homelessness and Hunger in Central Florida: The Sharing Center
Through simple acts of kindness, The Sharing Center is meeting the needs of people all over Central Florida. With compassion and generosity, The Sharing Center has been fighting hunger, clothing families and training job seekers since 1986. As one of the Center's community partners, AAGO's Friends of the Foundation is dedicated to supporting their mission and is thankful for the opportunity to support this local charity in 2018.
AAGO Foundation's Contribution
Apartment Association of Greater Orlando Foundation's mission is to educate and empower central Florida's homeless, veterans reintegrating into the workforce/society and teens aging out of foster care. The Sharing Center fits well with this mission, read on to learn more about services offered at The Sharing Center in Seminole County.
This year, AAGO contributed $8,000 to The Sharing Center and multiple serve days have been scheduled. Visit https://www.aagofoundation.org/events/ to see how you can get involved!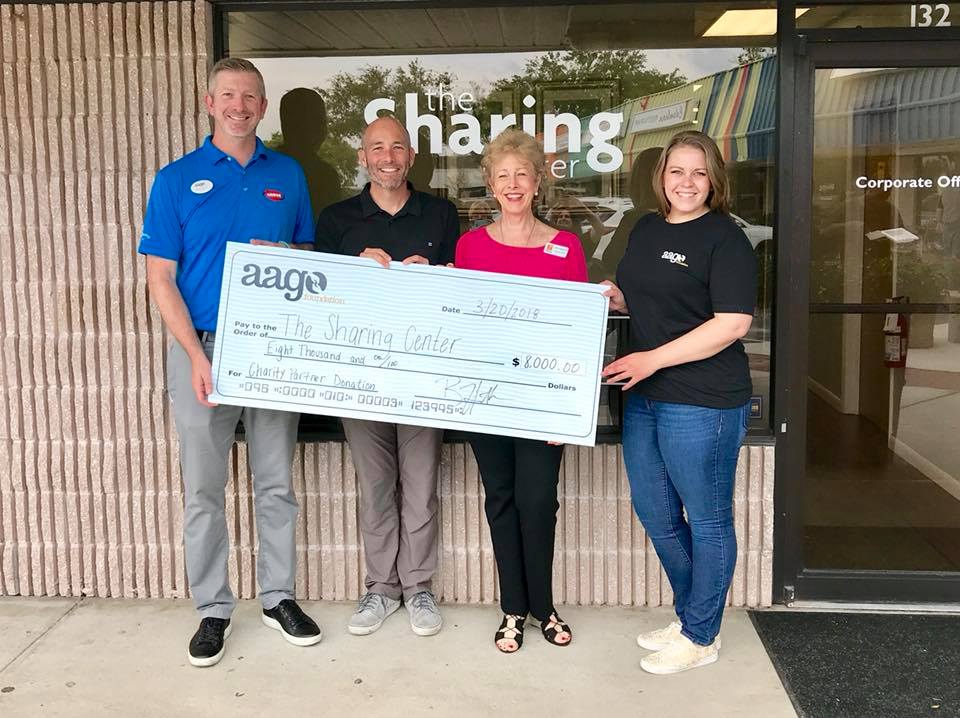 Food Pantry and Client Services
The Sharing Center, located in Longwood, Florida, is open for client walk-ins Monday through Friday from 9:00 am – 12:00 pm. In addition, many churches and businesses throughout the community send clients and volunteers to The Sharing Center. No matter the situation or the need, all are accepted and welcome. To make long-term impacts, The Sharing Center helps meet the clients' immediate needs but also dedicates resources and time to coaching them on how to build a plan for the future. The objective is to listen without judgement, assess the best ways to help, provide support and get them back to stability.
To bring relief to the hungry, the Sharing Center opened its very own Food Pantry. Here, clients can come and select items they like from a "menu" including meat and dairy products, dry and canned goods, baby food, vegetables and fruits, toiletries and even pet food. Using the menu prevents waste and provides clients which a choice – which the Sharing Center believes is especially important. Volunteers pack the requested items and bring each client roughly a one week's supply of food. While clients are able to come to the Food Pantry up to five times per year, it's not meant to be a permanent solution. For those in need of more long-term assistance, the Sharing Center provides information and guidance on enrolling in the food stamp program.
Last year the Sharing Center gave out an amazing 50,000 bags of food, most of which was donated by local churches and businesses. In addition, around 500 pre-prepared meals were distributed to families during Easter, Thanksgiving and Christmas.
Oasis Homeless Services
A warm shower not only benefits our bodies, but it also affects how we feel and the way society perceives us. The Sharing Center's Oasis, a homeless walk-in center, provides a space for clients to take a clean shower, get a professional haircut, do laundry, charge their phones, update their resume and search for jobs online. Clients can come in multiple times a week to take advantage of these services. Volunteers offer their time to help with laundry and to keep a clean environment for all who come. The Oasis serves an average of 20 clients per day.
Boutique, Thrift Store, and Donation Warehouse
To support the Center's many outreach programs, donations are happily accepted. Donations are either distributed throughout the community or sold, in which case the profits go straight back into supporting the mission of the Center. Rest assured, nothing that is donated is wasted! Clothes with holes are sold to salvagers at very reduced rates, books are sent to jails and strollers get distributed to clients and other organizations.
This is a guest blog post by Sydney Jamieson, the 2018 Vice Chair for the Friends of Foundation Committee and one of Orlando's Market Directors for 407apartments.com.
Click here to visit the Sharing Center website